---


Redwood City Seed Company - Catalog Supplement - Spring 2018
WE BEAT THE REAPER® ! - When Guinness confirms
...the 1,662,000 Scovilles for Craig's Champion™!
-- For peppers from Brazil>>>Click HERE
Our Catalog Supplement lists seeds not in our printed catalog, usually very rare or in quantities are too small to be listed in the catalog. Pictures and text are Copyright © 2018 by Craig Dremann, all rights reserved including the web. EACH PACKET contains 100 seeds, except for Craig's Champion™ which contain 20 seeds. "Craig's Champion" is a trademark owned by the Redwood City Seed Company.
Box 361, Redwood City, California 94064 USA - Text and images Copyright © 2018 by Craig Dremann

NO SHOPPING CART TO ORDER--Print Order Blank and FAX (650) 325-4056 or mail in with check or money order, or order over the phone with a CREDIT CARD for orders over $25 --
CALL 650-325-7333 -

Use DISCOVER, MASTERCARD or VISA. Or you can mail in a check or money order for payment.
Customers in the EU, the UK, Australia and New Zealand, seeds cannot be shipped due to your pepper seed viroid restrictions. And seeds cannot be shipped to Chile, India or Israel. The Chocolate Champion not shipped outside of the USA, and not to be taken out of the USA.

---

USA customers: Please add $5 for the first packet, and 10 cents for each additional seed packet for postage, except seed collections or dried pepper flakes, where postage is included in the price. Calif. customers, no sales tax. (HS) = Craig Dremann's Hotness Scale™. (N/T) means this variety has not been tested for its heat levels yet.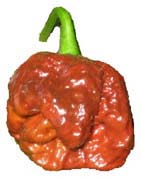 We BEAT the REAPER! ® --with Craig's Champion™
--CRAIG'S CHAMPION™ (C. chinense). Smokin' Ed's Carolina Reaper® old record of 1,569,300 Scoville heat units, has now been eclipsed by Craig's Champion™ at 1,662,000 Scovilles, after testing a composite of 10 dried peppers, and Guinness has been notified, so they can confirm this new World Record hottest pepper.
Plants grow to four feet tall and 2-3 feet wide, but can grow to 6 feet or more if fed with one cup of liquid fish fertilizer mixed with a gallon of water, plus a hand-full of bone meal watered into the soil surface once a month during the growing season. Fruit ripens to a deep chocolate color about two inches long by one inch across.
"Craig's Champion" is a trademark owned by the Redwood City Seed Company, with the following procedures for commercial use--NURSERIES can sell plants and PRODUCE GROWERS can sell fresh fruit without a license.
NO reselling or selling of these seeds for planting is allowed currently. ANY dried pepper, sauce, salsa or processed pepper sales require a license plus an annual license fees. BUYERS agree not to take transport, mail, ship, or send seeds, or plant these seeds, outside of the USA borders.
This pepper is so hot, that a single ounce of dried Craig's Champion™ fruit would make 1,000 gallons of salsa detectably hot. This new variety is not a cross or a hybrid, it is a "sport", which is the selection using the method that Luther Burbank used to discover all of his new varieties. By being a sport instead of a cross or hybrid, you are able to save your own seeds from your garden if you choose.
Buyers assume all risks when using or injesting this pepper. DO NOT handle the pods with bare hands, always wear gloves and a breathing mask when working with this pepper.
DO NOT eat the whole fresh as the results could be fatal. NEVER offer it to anyone to eat, as a joke, because that joke could end up in a death. For this reason, buyers agree when they purchase this variety, NEVER to use Craig's Champion™ in any pepper-eating contests, and you agree that you are solely responsible for the use or misuse of this pepper.
Maximum FIVE packets per individual gardening customer February to July 1, 2018. Maximum of 50 packets for pepper plant nurseries.
Buyers agree to all of the terms of sale that are listed at the bottom of this website.
The names of the nurseries around the USA growing plants for sale in 2018 at the bottom of this supplement. PACKET (20 seeds) $10
---
-- BIQUINHO RED (C. chinense) [Bee-keen'-you] Becoming popular as a pickled pepper from Peru under the US registered trademark "Sweety Drops®" also called "Incan Red Drops and "Red Peruvian Pepper". Origin is the Brazilian Amazon jungle, brought into cultivation, and is close to is wild ancestors still living in the forests. PKT $5
-- CAYENNE SWEET (C. annuum) Originally from Turkey, one of the most productive sweet peppers, known in Turkey as "Corbaci" with long narrow pods up to a foot long. Pickled whole or cut fresh into "pepper rings" for salads. PKT. $5
-- CHOCOLATE CHILE (C. annuum) This pepper is NOT chocolate colored, it is a long narrow red fruit and is called "chocolate" because in Hermosillo, Mexico this is the favorite variety to use with chocolate mole sauce and for mixing with chocolate drinks. Pods 3.5 inches long and 0.3 inc across. (HS: N/T) PKT. $5
-- PICO DE PAJARO (C. annuum) or Obregon. Another distinctive pepper from Hermosillo, Mexico, red pods 3 inches long and 0.4 inch across. (HS: N/T). PKT. $5
-- TEPIN FLAKES. The dried flakes for eating, with the seeds removed, harvested from the wild plants from the desert in Mexico. Becoming one of the world's rarest peppers, because it is not grown on farms, and the need to hand harvest in the desert during the fall harvest season, when the daytime temperatures are above 100 degrees. Fruit red, round 0.3 in in diameter. Put in a black- pepper mill and course-grind onto the surface of dishes like barbeque, produces little explosions of heat as you eat the food. Flakes keep indefinately if refrigerated. Shipped Free. One OZ. $15, 1/4 pound $50, 1/2 pound $80.
---
--Reaper® and Carolina Reaper® are registered US trademarks by PBPC LLC in South Carolina for pepper seeds, fresh fruit, and processed peppers.
--Sweety Drop® is a registered US trademark for the preserved, dried and cooked peppers by Gandules Inc. in Lima, Peru.

---
NURSERIES growing Craig's Champion™ seedlings for spring 2018 are--

CALIFORNIA
--LOS ANGELES---Jimmy Williams
--POMONA-Cal-Poly Pomona Nursery--Check Facebook for their Champion festival in summer 2018.
MINNESOTA
--HUGO-Hugo's Feed Mill
NEW YORK
--HAPANOCH-Country Flowers
OREGON
--EAGLE CREEK-Uncle Wayne's Tomatoes
PENNSYLVANIA
--CAMPHILL---Highland Garden
WASHINGTON
-- MABTON ---Hildalgo Alverez
---

TERMS OF SALE: This is the notice on the back of the seed packets--
"Craig's Champion" is the Trademark for this pepper's seeds, plants, fresh fruit, dried fruit and processed pepper products. By purchasing these seeds, you agree not to export or grow these seeds outside of USA.
NO SELLING of "Craig's Champion" pepper SEEDS is allowed at this time.
NOTICE to sellers of pepper seed, pepper plants and processed peppers (including powders, dried, pickled peppers, sauces and salsas): NURSERIES can grow and sell plants and GROWERS can grow and sell fresh fruit without a license.
SELLING dried, or processed peppers requires a license and annual fee.
You agree to pay on demand, LIQUIDATED DAMAGES-- selling any pepper seeds or products without a license, $25 per seed packet, $25 per pound of processed fruit, sauces or salsa.
NOT ALLOWED to be used in pepper eating contests, PRANKS, or YouTube videos. You agree to pay $1 per YouTube view that you post showing it being eaten.
You also agree this agreement covers any products, from seeds harvested from your own plants.
Agreement VENUE is San Mateo Co., California USA. If you do not agree to these terms, please return unopened seed packet for a full refund, within 7 days of receipt (6/2018)
---

Updated November 4, 2018 - Complete catalog here