---

Beauty examples from Yosemite roadsides.

---
Blue wild rye, Elymus glaucus a perennial native forest grass is successfully providing cover over new construction and slope regrading within Yosemite National Park, along Highway 140, near the Arch Rock entrance, about 5 miles from the valley floor.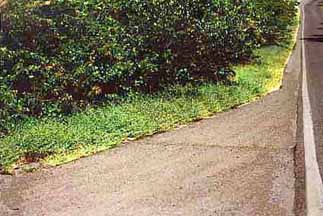 Along the road to Yosemite National Park, the edge of Highway 140 has a nice solid stand of native perennial Lotus purshianus only grows a few inches tall without mowing, and provides a fire-resistant, weed-free border that stays green all summer without any fertilizer or irrigation.
WHAT IS SIMILAR ABOUT THE NATIVE VEGETATION IN THESE TWO PHOTOS?
---
Photos and text copyright © 2000 by Craig Dremann, The Reveg Edge, Box 361, Redwood City, CA. 94064
---
Updated April 28, 2016. Back to Craig Dremann's main Contents page.