---

Chronic Sliding Roadcut Syndrome (CSRS) solutions.
a service offered by The Reveg Edge, Box 361, Redwood City, California 94064
Craig C. Dremann, co-owner (650) 325-7333 or email craig@ecoseeds.com
When roads are built through hilly or mountainous areas, inevitably a cut will have to be made into the side of a hill. In the past, exotic grasses have been hydroseeded to stabilize and vegetate those roadcuts. However, in certain soils that approach has been unsuccessful. Below are shown three examples: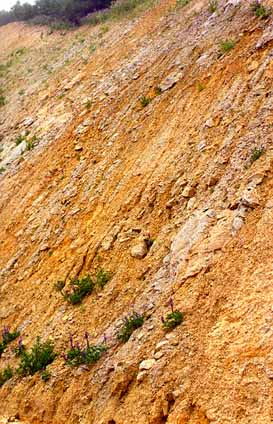 Highway 154 roadcut showing the symptoms of Chronic Sliding Roadcut Syndrome. Located in the Los Padres National Forest, 5 miles from Santa Barbara and the junction of Highway 101, only a few lupines survived from the hydroseeding, and nearly all of the mulch has sloughed off.
Highway One near Malibu, California with the beginnings of Chronic Sliding Roadcut Syndrome. Unless this roadcut is stabilized with the proper local natives, it will become a chronic problem with maintenance.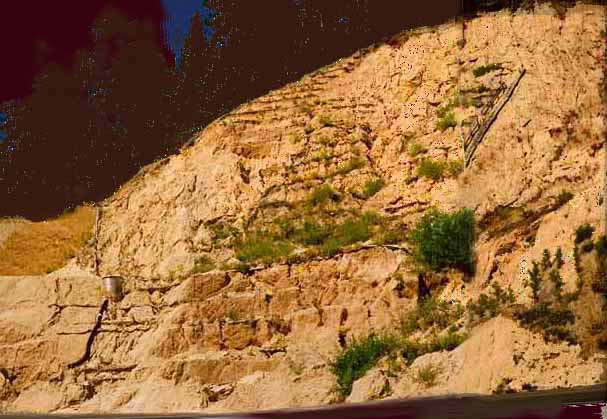 Highway 299 between Redding and Weaverville, California, a roadcut into decomposed granite which has suffered so many years of Chronic Sliding that it has been named "Old Faithful." This is the most difficult site to use natives, and careful research must be done to choose both the correct species and the proper local ecotype!
---
Our service is to find permanent solutions to Chronic Sliding situations. We conduct an anaysis of the best potential local natives, ecotypes, and methods of stabilization which can do the job of erosion control permanently; and eliminate the need of going out each year and clearing off the slides!
---
Photos by Craig C. Dremann - Updated April 30, 2016. Back to Craig Dremann's main Contents page