---

Highland Gardens, 423 South 18th Street, Camp Hill, PA 17011
Phone 717-737-8633 - Hours after April first = Mon.-Fri. 9-8, Sat. 8-5, Sunday 11-5
Summer pepper display garden, plus pepper seedlings for sale in spring, and fresh pepper samples will be available for tasting in summer.
Call Monica or Erica for more information.
Website: www.highlandgardens.org lists the pepper plant varieties that will be available.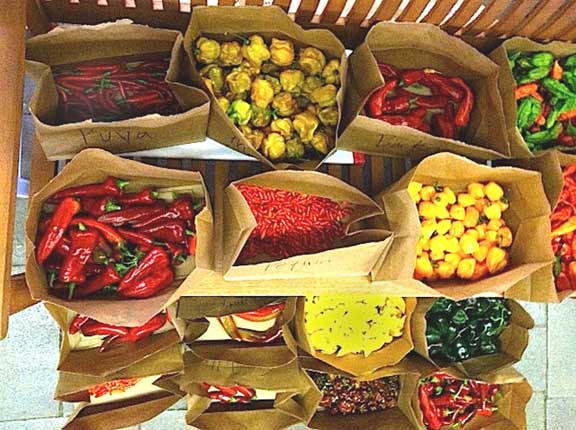 Examples of the peppers harvested from their display garden,
for customers to come and taste and take home.
---

Come and see Redwood City Seed Company's
pepper varieties grown in the display garden,
and buy pepper seedlings grown from
Redwood City Seed Company seeds, and taste hot pepper fruit in summer.
Pepper seedlings expected to be ready for sale, during the second week of May, and the exact day and time will be posted here as plants grow.
---

Updated April 3, 2016. Back to Craig Dremann's main Contents page
-See map image at bestplace.net