---

Floods and Droughts caused by Global Warming
and the Dust Cloud. PART 2

After a 5,500 year absence, the increase in annual rainfall and monsoon moisture could cause ancient rivers to flow and the grassland-savannas to regrow in Arabia.
And the "Pakistan-Arabia Dust Cloud" influencing that extra moisture
can cause floods and droughts
---

Copyright © 2014, 2016, 2017, 2018, 2022 by Craig Carlton Dremann, co-owner of the
Reveg Edge, P.O. Box 361, Redwood City, CA 94064 USA - (650) 325-7333 - email
This web page is Part 2 of "Cooling a planet with Revegetation, with special attention to the Arabian Peninsula, and a method to significantly increase water resources of the area--Choices for the Arabian peninsula--arid or abundance?"
LINK to PART ONE = https://www.ecoseeds.com/cool.html
---
SAUDI ARABIA ECOLOGICAL RESTORATION Updates:
AUGUST 19, 2010 -- The Kingdom of Saudi Arabia adopted this proposal, and set aside 200 million acres as Ecological Restoration Preserves, which were expanded to 200 million hectares by 2022.
October 2021 -- The "Saudi Green Initiative" was established, to start planting 10 billion trees at the rate of one million per week.
November 2022 -- At the COP27 meeting, Saudi Arabia lead 24 countries under the "Middle East Green Initiative" to start planting a total of 50 billion trees.
---
Since 1985 there has been rapid and permanent change in the rainfall patterns of Arabia, barely noticed or reported outside of the areas that have been impacted by the increased rainfall and floods, and seemingly overlooked by most climatologists and meteorologists.
Several thousand years ago, prior to the time before humans domesticated grazing animals like camel, sheep, goats and cattle, the area from western India, Pakistan and Arabia was covered with a savanna-grassland with rivers, lakes, freshwater marshes and waterfalls.
When the perennial native grass and wildflower cover and savanna trees of the area were removed by the domestication of grazing animals and the area changed to desert.
When people started protecting flocks of grazing animals from natural predators, and eventually drove the predators to extinction, then grazing animals who eat the native grasses were able to multiply beyond what the grassland ecosystem could reasonably sustain.
When the grasslands were destroyed, the vegetation cover was no longer there to cool the soil surface, so that clouds were no longer able to form and rain on those lands during the summer monsoons. Within a short amount of time, perhaps only a few human generations, the climate went from savanna-grasslands to barren desert.
When the perennial native grass and wildflower cover was grazed away, it exposed the bare soil, and that soil started getting airborne, which produced a Dust Cloud hovering over Pakistan and Arabia each year.
A similar Dust Cloud event happened in the United States from Texas to Colorado in the 1930s, and it was called the "Dust Bowl", which lasted only a decade, because those areas were replanted with vegetation in the 1940s. If in the USA, the 'Dust Bowl" millions of acres had not been replanted, those Dust Cloud conditions could have been made a permanent part of North America, just like the Dust Cloud has existed for thousands of years in Pakistan to Arabia.
The "Dust Bowl" conditions from Pakistan to Arabia, have lasted for about 5,500 years. While the dust cloud strength has been about the same for thousands of years, a change occurred in 1985 when global warming strengthened the atmospheric moisture and has been able to break through the Dust Cloud wall.
The normal rainfall pattern for Arabia was described in the book "Unknown Oman" by Wendell Phillips (1966):
For centuries, with the exception of Salalah in Oman, the annual rainfall of Arabia has been consistently low each year, as described by Phillips (page 217), "Two or three hours of heavy rain a year means a good year whereas farther north in the dunes thirty to forty minutes of rain in one solid shower will moisten the sands sufficiently to produce adequate grazing for a period of twelve months."
Phillips writes that the exception in Arabia, is the area around Salalah in Oman, (page 168-9) "the narrow half-moon shaped coastal plain of Dhofar is an abnormal feature in this otherwise arid South Arabian coast the monsoon from which Dhofar derives its unique climate, with its inflow of fog and drizzle summer rain yields five inches on the coast and fifteen inches in the mountain.
"The Qara Mountains rise steeply to the north, limiting the coastal plain to a maximum width of ten miles. Within these mountains lovely secluded little lakes and gorges rich with tropical ferns and running streams. Sycamore, myrtle, white jasmine, and acacia trees abound."
Phillips also writes about unusual torrential rainfall events (page 164) only hitting Arabia twice in 600 years prior to 1890, the cyclonic storms of 1286, and 1325. Then on June 4, 1890, twelve inches of rain fell in 24 hours throughout Oman, killing 700 people and uprooting over 100,000 date palms. When Phillips was in Oman in late January 1958, heavy rains caused great damage across the county.
So from 1200 and 1889, two torrential rainfall events occurred in Arabia, then from 1890 to 1958, there were two more events.
Currently torrential rainfall evens in the Arabian peninsula are occurring annually to several times a year.
For five thousand years, the Pakistan-Arabia Dust Cloud was able to kill the rain clouds before they formed over Arabia during the monsoon season, but the increase in monsoonal moisture due to global warming is overwhelming the Dust Cloud.
Additionally, an ancient moisture pattern in spring March to June is beginning again after a several thousand year absence, originating from South America through central Africa, and then moving north to the west coast of Arabia. This pattern coupled with the East Indian monsoon moisture, may have been the cause of the Biblical flood story, occurring in Arabia from April to June for 40 days and 40 nights, many thousands of years ago.
And on June 2, 2012, the air temp. of the Holy city of Mekkah reached a new record of 124.5°F, and two days later rain fell when the air temperature was 109°F. (43°C), so the summer rainfall is returning to Arabia, despite the Dust Cloud and despite the heat, and the rain that fell on June 4th was about 100° F. by the time reached the ground. (www.wunderground.com/blog - Hottest rain falls at 109° F in Saudi Arabia)
The first part of this discussion at https://www.ecoseeds.com/cool.html traces the flood events from 1985 to 2013, and I will pick up the flood events from 2013 forward here:
---
2013
January 27-29 = KSA Tabuk, floods caused by a new storm track coming from the south, from the East coast of Africa.
March 21-26 = KSA southern Jazan province, three swept away in floods (Saudi Gazette) https://www.saudigazette.com.sa. Several roads were flooded or damaged in heavy rains that lashed Jazan region, again from the new storm track from Brazil, and Yemen reports six people died in Hadramout governate, with the Dawan, Wadi Al-Ain, Al-Qatan, Shebam, Tareem, Sah and Sayoon areas were all partially under water due to the floods. Roads in Al-Soairi and Moshtaa areas are still blocked (Yemen Times), with a total of 19 killed at https://www.yementimes.com/en/1664/news/2174/Flooding-continues-death-toll-rises.htm.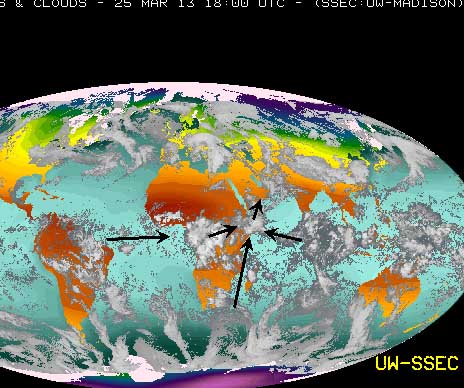 In 2013, new spring storm tracks are bringing floods to the Arabian peninsula, filling valleys with flood waters, in the wadis that have not seen flowing waters for centuries.
April 26-30 = Oman floods at httpss://www.youtube.com/watch?v=1xMHzzL4j6M.
May 2-7 = KSA and Oman 25 people died and four missing in KSA flash floods, highest rainfall in 25 years.
August 14-September 16 = Yemen floods, at least 50 killed, including a wedding party at https://reliefweb.int/report/yemen/yemen-floods-august-september-2013-situation-report-no-4-16-september-2013
November 15-26 = Kuwait floods, heaviest rain in 61 years, floods in Saudi Arabia to Qatar at https://www.army.mil/ - Riyadh one killed when capital flooded, floods in UAE, huge area of Kuwait underwater, Oman, and Bahrain with severe flooding in some areas.
2014

January 5-7 = KSA Hail flood 3 dead, Riyadh, Taif, Eastern province and UAE flooded.
February 12-13 = Oman, Muscat flooded Baushar and Ansab districts in Muscat received 50 mm rains while Ghubra recorded 45 mm rains and the Amarat suburb on the eastern side of Muscat recorded 70 mm rainfall while Seeb received 60 mm rainfall, according to Oman Weather Updates at https://gulfnews.com/news/gulf/oman/rains-flood-streets-in-muscat-1.1290446.
March 10-12 = KSA 7 killed in floods..
March 13-27 = Oman floods in Nizwa, six dead, floods in Qatar, Doha at https://www.youtube.com/ and at https://floodlist.com/asia/6-dead-flooding-oman
The highest rainfall, 415 mm, was recorded in the Niyabat of Lima of Khasab. (Gulf News), March 14-17 UAE floods in Sharjah and Fujairah. UAE Dubai floods March 26 at https://floodlist.com/asia/heavy-rain-floods-dubai. Also flooding in Sinai, Egypt on March 22-23 at https://www.youtube.com/watch?v=TM1AieCPJFE.
April 22 = Oman flooding.
May 9-10 = KSA Makkah and Hail flooded, 2 killed at https://www.youtube.com/
May 9 = Israel had "Biblical rains" flooding the desert near Dead Sea, also in Sinai, Egypt flooding at https://www.jpost.com/National-News/Late-spring-rain-brings-Israel-to-a-halt-351631
Dr. Baruch Ziv, a climate scientist at the Open University, told the Post. Lightning frequency was very high, a typical component of tropical storms, and the intensity of the rains were extreme, Ziv added.
The strong storms carried with them widespread thunder and lightning and drenched the country with rain almost nonstop from Wednesday night through Thursday morning, IMS data, provided by Porat, said. Up until Thursday afternoon, the largest amount of rains fell in the Shfela region, with about 50-80 mm. accumulating there. In most monitoring stations stretching from the North to the northern Negev, between 20-50 mm. piled up, the data said.
The station at Tzora, in the Mateh Yehuda Regional Council, received 82 mm. of rain, the maximum amount of rain accumulated in a single May day in Israel since 1963, when 93 mm. fell in Afula, according to IMS.
"This event was exceptional or even unique for May," Ziv said. "I think that there was not even one rain station in Israel that didn't get rain."
May 12 - Kuwait floods, kills three, torrential rain in capital, check Youtube for clips. May 2-7 = KSA and Oman 25 people died and four missing in KSA flash floods, highest rainfall in 25 years. August 14-September 16 = Yemen floods, at least 50 killed, including a wedding party (https://reliefweb.int/report/yemen/yemen-floods-august-september-2013-situation-report-no-4-16-september-2013) November 15-26 = Kuwait floods, heaviest rain in 61 years, floods in Saudi Arabia to Qatar (https://www.army.mil/article/117624/Soldiers_in_Kuwait_bond__mops_up_after_biggest_rainfall_in_61_years/">https://news.kuwaittimes.net/heavy-rainfall-flash-floods-hit-kuwait
July 3 - Saudi Arabia - Floods and heavy rains cause chaos (several Youtube videos by Reza Afshar including a wall of water at Vadi Fija).
2015 (from floodlist.com)
March 23-27 - Saudi Arabia - Floods and heavy rains kill eleven with three missing.
September 4 - Oman - Flash floods kill four, one missing.
October 14-19 - Oman - Heavy rains caused flash floods, kills 7, with record rains of 104 mm in city of Ibra.
October 30 - Saudi Arabia, Iran, Iraq - heavy rains and floods over three days 19 died flash floods in the northern parts of the country. Also floods in Israel, Lebanon and Kuwait.
November 4 - Yemen - Cyclone Chapala three dead, 35 injured, 40,000 homeless. See Youtube "Flood suddenly goes out of control" by Cam Carretera.
November 17 - Saudi Arabia deadly floods in Jeddah, Makkah, 12 dead.
November 25 - Saudi Arabia, Qatar one dead after Qatar has one year's worth of rain, 80 mm, in one day.
2016
January ­ KSA ­ Snow reported between Mecca and Medina for the first time in 85 years.
February 17-21 - Saudi Arabia ICE-"flash floods" or heavy hailstorm for first time, as well as torrential rains in Iraq and Iran.
March 8-10 - UAE torrential rains brings country to a standstill, considered "rare."
March 14 ­ UAE and Oman flash flood and mud slides from thunderstorms. Rainfall averaged 1-3 inches (25-75 mm) with local amounts up to 5 inches (125 mm), with the storms continuing towards Pakistan, Afghanistan and India .
March 25 - Oman, UAE = Heavy thunderstorms produce downpours.
April 8-15 - Saudi Arabia, Yemen, Iran, Iraq and Oman, flash floods kill 40, traffic chaos in Riyadh. Many Youtube examples.
May 23-24 ­ Yemen ­ Heavy rains caused landslides killing 20.

November 2016 Saudi snow storm photo from Watchers News
July 31-August 3 - Yemen flash floods kill 8, heavy rains in Sana, sweeps away cars, crops.

November 23-30 ­ KSA snow, then heavy rains, thunderstorms and floods, cars washed away in wadis, motorists caught by floodwaters, Riyadh flooded, in cities like Buraidah the rainfall uncovered insufficient drainage systems, 7 died.
2017
January 23-25 - Oman heavy rain and flash floods, four killed, 200 homeless, properties destroyed by swollen wadis, people rescued by helicopters from their rooftops and from on top of their cars. Snow storm blasts UAE.

February 3 ­ DUBAI-extreme weather floods the Palm Island.

February 13-17 ­ KSA One died in floods in Asir Region, train derailed near Dammam, three month's worth of rain in 24 hours, breaking a 100 year old record, called an "apocalyptic" storm and the "Great Flood" - people panicked that the rainfall was a "sign from God". Oman flooding including the Muscat International airport, some Oman areas 60-90 mm of rain in 24 hours, wadis flooded. Two weeks earlier, a snowstorm blasted across the UAE.

March 19-27 ­ KSA flooding by intense downpours, thunderstorms in central KSA, Oman, Qatar, UAE, Kuwait, Iran and Iraq.

May 17 ­ KSA Violent floods in Fulda ­ Mecca. Several YouTube videos.
July 11 - Oman massive flash floods, many YouTube videos, gave birth to rivers in normally dry wadis.
July 25 - Yemen, Sanaa, floods, heavy rains.
August 30 - Yemen, flash floods sweep away cars, wreck houses in Taiz, 18 killed.
November 11 - Oman, heavy rains flood villages.
November 21-22 - KSA, Jeddah and Makkah, flash floods, three killed.
November 29-December 6 - Arabian Sea - Cyclone Ockhi, most intense cyclone since Megh, wind speeds of 115 mph., dissipates before makes landfall.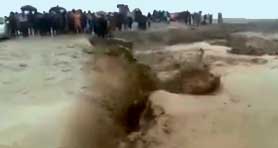 November 2017 video of Jeddah floods on Youtube,
a car swallowed by flood waters, now you see it.
2018
February 24-25 - KSA in Jeddah, floods and snow. Hail storm in Al-Madinah larger than golf balls (about 3 inches in diameter) injure 50 people, animals killed and vehicles damaged. Heavy downpours and flash floods in UAE.
March 1-5 - KSA - Mecca floods and Oman torrential rains. Search Google for "truck narrowly escapes flash flood waters Saudi Arabia" or "truck in Saudi Arabia outruns a flash flood in the desert" to view a race between flood waters in two wadis and a truck, who wins?
April 4 - KSA flooding in the town of Hail.


---


Google Earth image from 50 miles NE of Riyadh, showing an example of the area north and south of Riyadh that was within historic times, a lush grassland and open forest fed by hundreds of streams and rivers that flowed year-round, and were from 1-3 meters to about 10 meters deep.

The summer temperatures currently have daytime highs of 115 deg. f. and 90 deg. F. nights, and if the native grasslands and other native vegetation were back covered the land, the temperatures would probably be between 80 and 90 degrees F. all through summer, more like Salalah, Oman is today.
---
From an answer to a question on Research Gate.org--How important are plants to control the gradient in temperature from land to atmosphere?
The importance is divided into two categories--what factors allow plants to exist where they are, and what do the plant contribute directly to control the transfer of heat from the land to the atmosphere.

If you use the vegetation in the mountains of Oman near Salalah as your study area, as I have at https://www.ecoseeds.com/cool.html and at MIT Prof. Elfatih Eltahir <eltahir@mit.edu> is the planet's best example area to study the effects of vegetation on climate, at https://web.mit.edu/eltahir/www2/dhofar/content/fdi.htm

So why do the forests grow only in the mountains of Salalah and nowhere else on the Arabian peninsula?

They insulate the soil, and that does not allow the heat of the sun to get stored by barren sands, which goes very deep into barren soils during the day. They also act as insulators, and you could calculate a "R" factor for each kind of plant, for its individual insulating value. I measured this effect in the Mojave Desert with a single native grass plants, image attached.

Around the plant, the soil surface was 128 deg. F. , and the air temp. was 90 deg. F., but under the grass plant it was 2 degrees cooler!

Then the other important insulating effect of vegetation, is that by dropping the air temp., then you change the dew point, so then rain clouds and rain can occur, like the vegetation in the mountains of Salalah create their own climate and rain is produced each summer, by changing the dew point so clouds can form.
PSEUDOMONAS BACTERIA HOST PLANTS

Then bacteria are the last puzzle piece, the cloud producing bacteria that live on the tree leaves, that help create the rain clouds. Like on the trees in Salalah, or in the California Sierras and Coast ranges, or the trees growing in the Western Ghat sacred forests, or the trees in Southeast Asian forest.

You can have heat-maiden moisture going overhead, like before the summer monsoon starts, or over most of Arabia all summer, high humidity with high temperatures in the atmosphere, but no rain clouds forming, without the right native vegetation on the ground.

What you need to break and release that heat and atmospheric moisture, is vegetation with the Pseudomonas bacteria, so the vegetation can lower the dew point, and rain clouds form to release the bacteria to produce rainfall, and the atmospheric heat is dissipated, as is experienced each summer with the monsoon rain.
ELIMINATE the ATMOSPHERIC DUST

Then, you need to factor in atmospheric dust as a atmospheric heat trapping and heat transfer agent. Clear air by itself is a very good insulator, just like pure water cannot transfer electricity very well.

But add only 20-40 micrograms per cubic meter of dust to the air, and that dust acts as a very good heat trapper. And the dust works against the vegetation wanting to lower the dew point, and instead raises the dew point to impossible levels for rain clouds or rain to exist.

The ecological restoration of arid barren lands, about one billion acres worldwide, with the original native vegetation and native trees, will be the ultimate solution to planetary global warming. It is NOT going to be these ridiculous climate engineering solutions, like those written about in the May/June MIT Technology Review "The Growing Case for Geoengineering" by James Temple, pages 28-33.

Global warming is NOT going be solved by salting the oceans with iron to feed the plankton, or by burying CO2 in old mines, or by shooting up space umbrellas to cover the planet, or any of those other insane geoengineering solutions that are being proposed.

Global warming CAN be solved in part, by replanting the barren hot arid lands, so that they are insulated with the original native vegetation, to keep the heat from getting into the atmosphere in the first place.

Instead of carbon dioxide being the evil molecule that is going to destroy civilization and the environment, that we want to bury down old mine shafts, it can be the material that helps restore the arid and currently barren deserts. The CO2 be the building blocks for the local native perennial grasses and local native trees and wildflowers, to start the soil-building processes in areas where our domesticated animals stripped off the vegetation thousands of years ago and produced hot wastelands instead of fecund lush vegetation with lots of flowing water, and cooler temperatures.

If we have to fix things, why not try the most environmentally safe solution first? Your question that you ask here, is at the heart of a solution to global warming-- How important are plants to control the gradient in temperature from land to atmosphere?
CARBON SEQUESTRATION BY GRASSLANDS
This question can only be answered by going on a "Treasure-Hunt"--in that there are many kinds of grasslands around the planet, each containing several species of native grasses, usually perennials.

Then, within an individual grassland, each native species produces a unique amount of carbon that is sequestered annually. I discovered this fact with the arid land species in California in the 1990s, and found a huge range between the six species of grasses in terms of the carbon in the soil that had been sequestered by each one.

Conversely, the best carbon-sequestering grasses in any native grassland can be driven to extinction, when domesticated grazing animals lower the soil carbon levels below what the grass seedlings need for germination and survival.

You can see that happened in the area I was studying north of Reno, Nevada in the paired photos at https://www.ecoseeds.com/good.example.html. The grazing caused the soil nutrients and organic matter to drop below the threshold needed for seedling survival.
---
Updated December 31, 2022 - Go to The Reveg Edge website