---
The during the summers of 2001-2005,
The World's Largest Pepper Garden
was planted at the Huntsville Botanical Garden in Alabama!

4747 Bob Wallace Avenue, Huntsville, Alabama 35805 - Phone: (256) 830-4447


---

The Master Gardeners led by Doris and Wallace Phillips, designed, planted, and maintained the pepper garden each year, located in the Huntsville Botanical Garden, a public garden in Huntsville, Alabama.
Here's pictures of Doris Phillips and Wallace Phillips:

And here's a picture of the pepper garden getting planted, May 13, 2005: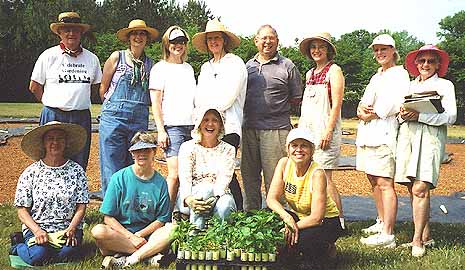 Front row sitting, left to right: Bess Smith, Barbara Dade, Bess Parks and Barbara Birdnow
Back row standing, left to right:
W.W. Fuller, Rose Wolf, Terrah Moore, Patty McKee, Max Campbell, Mary Pendley, Sally Goldner and Doris Phillips.

---

Photos of the different kinds of hot peppers that were growing in the garden are arranged below, from the mildest to the hottest, using Craig Dremann's Pepper Hotness Scale, copyrighted © 1984-2004. by the Redwood City Seed Company, Box 361, Redwood City, CA. 94064.

The Tepin pepper is the hottest pepper in the world so far measured, and is rated at 64,000 on the Dremann hotness scale. This means that one ounce of the dried Tepin pepper produces a detectable hotness in 64,000 ounces of salsa. Sweet peppers are 0 on the scale.
Visit groups of peppers, arranged by their the Hotness Scale Rating:
0 = sweet peppers
1 - 99
100 - 324
325 - 1,499
1,500 - 9,999
10,000 - 50,000
---
Visit individual Hot Peppers, arranged Alphabetically by Variety -
The Number is the Hotness Scale Rating:
Aci Sivri
- 320
Anaheim - 25
Ancho - 22
Azr - 4,000
Bangalore Torpedo - 1,600
Caloro - 1,100
Cayenne French - 667
Cayenne Long Slim -625
Chandigarh - 1,600
Cherry Red Hot - 125
Chimayo - 100
Dagger pod - 2,000
De Arbol - 8,000
Dhanraj - 10,000
Elephant's Trunk - 60
Espanhola - 131
Fresno - 178
Hungarian Yellow Wax - 42
Indian PC-1 - 25,000
Jalapeno "M" - 238
Jalapeno Early - 700
Japones - 16,000
Joe E. Parker - 53
Jwala - 1,400
Madras - 833
Malagueta - 2,000
Mexican Negro, Pasilla or Chilaca - 380
Mulato - 135
Navajo - 16
Nepali Orange - 8,300
New Mexico 6-4 - 3
Pequin - 20,000
Pueblo - 14
Punjab Small Hot - 13,300
Pusa Jwala - 270
Puya - 1,200
Raja's Pride - 250
Red Chili - 10,000
Rio Grande - 25
Sandia - 42
Santa Fe Grande - 1,100
Scotch Bonnet Red - 2,300
Serrano - 150
Suryamukhi Cluster - 833
Sweet Wrinkled Old Man - 90
Tabasco - 10,000
Tepin - 50,000
Thai Hot - 6,700
Yatsufusa - 5,700
---
Visit the Sweet Ones, arranged Alphabetically by Variety -
Sweet Cal. Wonder
Sweet Centinel
Sweet Cheese Red sweet
Sweet Cheese, Yellow sweet
Sweet Corbaci
Sweet Corno di Toro Giallo
Sweet Demre
Sweet Kandil
Sweet Kapya

Sweet Quadrato D'Asti Giallo
Sweet Quadrato D'Asti Rosso
Sweet Topepo


---
Huntsville Botanical Garden
---

Web page maintained by Craig Dremann, Redwood City Seed Co. (650) 325-7333
Photos copyright © by Wallace and Doris Phillips, used with permission.
Updated December 27, 2009