Redwood City Seed Co, Box 361, Redwood City, Cal. 94064

Craig C. Dremann, co-owner. Phone: (650) 325-7333; Fax (650) 325-4056
---
NATIVE BUNCHGRASS Bare-root Seedlings
Prices effective June 26, 2008. Photos Copyright © 1995, 2003 by Craig Dremann
TO SEE SOME IMAGES OF OUR GRASS SEEDLINGS, click here
Prices are FOB growing grounds, with delivery, packing, shipping, and sales tax extra. Sales tax is exempt for resale customers, or for State of California and Federal government agencies. We ship UPS second day and the cost of shipping and packing is about 35¢ per plant.

Plants are packed with damp potting soil packed around the roots in open-ended plastic bags, packing in cardboard boxes. Plants can be kept in the potting soil they are shipped in for a week or two after boxes have been opened, if you keep the plants in shade, with the plastic bags fully open, and the roots kept moist.

Bunchgrasses, when planted out, need to be spaced 6-8" in each direction, or about 3-5 plants per square foot of area. We recommend ordering 4 plants per square foot. Planting at wider spacing, even with mulch, will cause a failure of the planting due to weeds that will be impossible to manage.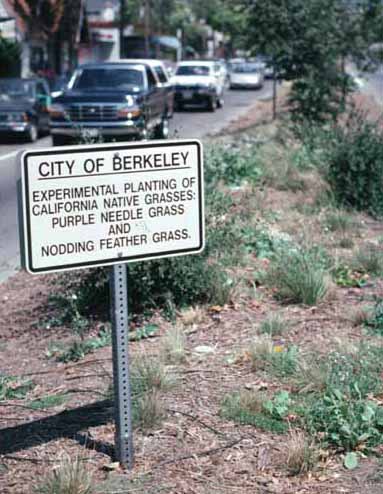 COMPLETE FAILURE WHEN GALLONS WERE PLANTED, instead of bareroot seedlings, at the 1995 University Avenue planting experiment, in Berkeley, California. Gallon containers of native grasses on 2-3 foot centers were planted, mulched with wood chips for weed control, and irrigated with drip irrigation,. This photo was taken summer 1995, and this gallon container planting of native grasses, completely failed within six months.

This example was used in my native grass classes, at http://www.ecoseeds.com/berkeley.grass.html
Instead, a successful planting of bareroot native grass seedlings, can be seen in Sausalito.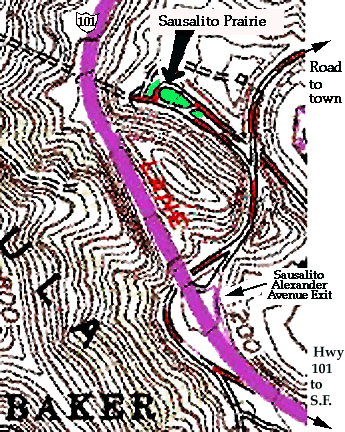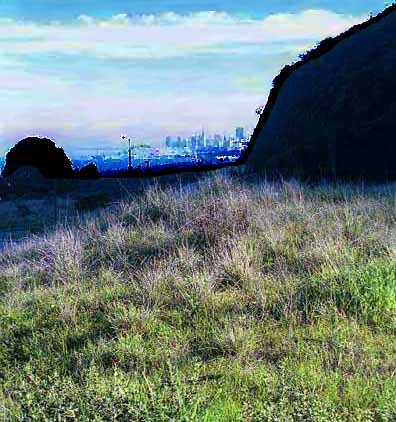 Excellent success of bareroot native grass seedlings, can be seen, when 20,000 of our seedlings were planted in Sausalito, in February 1995. They are all still growing today, happily waving in the wind, over a decade later, with San Francisco in the background.
When bareroot seedlings planting at a close spacing, the native grasses produce natural herbicides called "allelochemicals", that keep the weeds controlled. When planting further apart, you defeat the action of the natural weed-killing effects produced by the closely-spaced native grasses.
All our grass plants are grown to order---and we need seeds by August 1, and seedlings will be ready by January to February.

MINIMUM ORDER = 2,000 PLANTS OF ANY SPECIES.

ALL PLANTS ARE GROWN FROM locally collected seed that you need to supply to us, and one to two ounces of seed (about 1/2 to one cup) will usually produce 1,000 seedlings.

Bareroot native grass seedling have a very high survival rate if planted from winter to early spring, usually 80-90% survive after one year. Plus they will usually set seed their first year!
Bareroot seedlings are very useful for steep slopes where seed alone has a hard time getting established. For example, rocky soils like serpentine, or in arid, desert conditions. Bareroot seedlings are also very useful, where direct seeding has failed in the past, and planting bareroot seedlings will usually survive, so the project can be signed off.
Since bareroot seedlings have very little potting soil around the roots, when planted, roots are in closer contact with the native soil, protecting them from possible wicking moisture away from the roots in summer. The artificial potting soil around roots of traditional plugs or gallons of native grass plants, in summer, can wick moisture away from the roots, causing a lot of losses and wasted money and time.

Our bareroot seedling have a higher success rate over container-grown seedlings because the roots are not wrapped around the light potting soil, that can wick moisture away from the roots in summer. Bare-root plants are in direct contact with the native soil, so moisture wicking in summer is never a problem.
One key to survival is that seedlings should be watered-in thoroughly immediately after planting.
---
OUR MOST POPULAR SPECIES
Botanical names ......Common names........Habitat...plant price ea.

Agropyron spicatum........Bluebunch wheatgrass... dry, full sun...........70¢
Agrostis idahoensis.......Idaho Redtop........... vernally wet ...........70¢
Bromus carinatus..........California Brome ...... sun to shade ...........50¢
Bromus laevipes...........Woodlands Brome........ shade.................. 80¢
Bromus orcuttianus .......Orcutt's Brome ........ dry open woods......... 80¢
Bromus suksdorfii.........Suksdorff's Brome ..... dry woods ............. 80¢
Bromus vulgaris...........Columbia Brome ........ wet rocky slopes, woods 70¢
Danthonia californica.... California Oat-grass .. sun, moist soil.......$2.50
Deschampsia atropurpurea .High altitude hairgrass.alpine ................ 70¢
Deschampsia caespitosa ...Tufted hairgrass .......bogs and wet places.... 50¢
Deschampsia elongata .....Slender Hairgrass.......shade,moist soil .......50¢
Elymus cinereus...........Great Basin Wild Rye... sun, rich soil......... 70¢
Elymus glaucus............Blue Wild Rye... .......sun to shade, oakwoods. 80¢
Elymus--also see Hystrix, Sitanion
Festuca californica.......California fescue...... dry edge of woods...... 50¢
Festuca idahoensis........Idaho fescue.. .........open woods to prairies. 50¢
Festuca occidentalis......Western Fescue......... dry slopes............. 60¢
Glyceria elata............Tall mannagrass........ wet meadows............ 80¢
Glyceria striata..........Fowl mannagrass........ moist meadows.......... 80¢
Hilaria rigida............Galleta grass.......... desert sandy areas....$2.00
Hordeum brachyantherum....Meadow barley.......... sun to shade........... 60¢
Hystrix californica.......California bottlebrush. dense moist woods...... 80¢
Koeleria cristata.........Prairie Junegrass...... prairies to open woods. 75¢
Melica californica........California Melicgrass.. sun to shade........... 75¢
Melica torreyana..........Torrey's Melicgrass.... sun to shade........... 75¢
Nassella--see Stipa
Oryzopsis hymenoides......Indian Ricegrass........desert sands............99¢
Poa scabrella/secunda.....Pine Bluegrass......... sun to shade........... 75¢
Sitanion hystrix..........Bottlebr. squirreltail. dry hills,open woods... 50¢
Stipa cernua (Nassella c.)Nodding Stipa.......... sun.................... 50¢
Stipa lepida (Nassella l.)Foothills Stipa........ shade of oaks.......... 60¢
Stipa lemmoni(Nassella L.)Lemmon's Stipa......... sun.................... 99¢
Stipa pulchra.............Purple Needlegrass..... sun to part shade...... 50¢
Stipa speciosa............Desert Stipa........... desert rocky soil...... 99¢
Stipa stillmanii..........Stillman's stipa....... rocky slopes, Sierras.$3.00

Back to Home Page
---
OTHER SPECIES THAT WE CAN GROW AND QUOTE ON REQUEST:
Agropyron caninum ssp. majus.
" dasystachyum.
" riparium.
" smithii.
" trachycaulum.
Agrostis blasdalei.
" densiflora.
" exarata.
" hallii.
" oregonensis.
" pallens.
" scabra..
" thurberiana.
" variabilis.
Aristida Californica.
" purpurea var. fendleriana.
" " " longiseta
" " " nealleyi
" " " parishi.
" " " purpurea.
" " " wrightii.
" ternipes var. hamulosa.
Blepharidachne kingii.
Bouteloua curtipendula.
" eriopoda.
" gracilis.
" trifida.
Bromus carinatus var. carinatus.
" " " maritimus.
" ciliatus.
" grandis.
" laevipes
" marginatus
Calamagrostis bolanderi
" breweri
" canadensis
" foliosa
" koelerioides
" nutkaensis
" ophiditis
" purpurascens
" rubescens
" stricta ssp. inexpansa
" " " stricta
Danthonia intermedia
" unispicata
Deschampsia caespitosa ssp. holciformis
Dissanthelium californicum
Elymus condensatus
" glaucus var. glaucus
" " " jepsonii
" " " virescens
Festuca brachyphylla ssp. breviculmis
" elmeri
" kingii
" minutiflora
" saximontana
" subulata
" subuliflora
" viridula
Glyceria borealis
" elata
" grandis
" leptostachya
" occidentalis
" striata
Hilaria jamesii
Hordeum brachyantherum ssp. brachyantherum
" " " californicum
Melica aristata
" bulbosa
" frutescens
" fugax
" geyeri
" harfordii
" imperfecta
" spectabilis
" stricta
" subulata
" torreyana
Muhlenbergia andina
" arsenei
" asperifolia
" californica
" jonesii
" mexicana
" montanat
" pauciflora
" porteri
" richardsonis
" rigens
" utilis
Paspalum distichum
Phalaris californica
Pleuropogon hooverianus
Poa atropurpurea
" confinis
" cusickii ssp. epilis
" " " cusickii
" " " pallida
" " " purpurascens
" douglasii
" fendleriana
" glauca ssp. rupicola
" keckii
" kelloggii
" leptocoma
" lettermanii
" macrantha
" napensis
" pattersonni
" piperi
" pringlei
" rhizomata
" sierrae
" stebbinsii
" tenerrima
" unilateralis
" wheeleri
Sitanion jubatum
Stipa aridum
" columbiana
" comata
' coronatum
" diegoensis
" lettermanii
" nelsonii
" occidentalis ssp. californica
" " " pubescens
" pinetorum
" stillmannii
" thurberianum

Back to HOME PAGE