---
Genetic Fingerprints for Native Grasses
offered by The Reveg Edge, Box 609, Redwood City, California 94064
Craig Dremann, co-owner (650) 325-7333
When you purchase expensive native grass seed, how do you know what you're buying? Native grass seeds are expensive, and when you open a bag of Blue Wild Rye that you've ordered, how do you know it is the Humboldt County variety you ordered and not the central Oregon variety that was substituted by mistake? For only $10-20 a sample, you can check!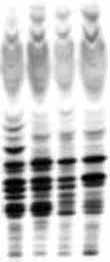 An example of what genetic fingerprints look like. These fingerprints show four different wild populations of Great Basil wild rye collected from around the Susanville, California area.
You can double check shipments of native grass seeds for errors in variety. The cost of the genetic fingerprint is less than a germination test. No consumer or agency purchasing native grass seeds would ever order seed without a germination test, so why gamble on the identity of the seed you are ordering? Get a genetic fingerprint and find out!
---