---
"THE POPPY PROJECT at Arastradero Preserve"
Replanting wildflowers from Spring 2012 to December 16, 2016
Craig Dremann, The Reveg Edge, P.O. Box 361, Redwood City, CA 94064

Phone: (650) 325-7333 - FAX: (650) 325-4056.
---
>> Now my company is working on the "WEEDS to WILDFLOWERS" program from on the San Francisco Peninsula on private properties of one acre or more. Call and ask about this program.
If you mow weeds every year in parts of your yards, there might be native plants still there that could take the place of those weeds.
Woodside homeowners, call or email for a FREE Native Vegetation Survey to find the hidden native plants on your property, that could take the place of the weeds.
See the two-acre Poppy Project at the corner of Anacapa and Viscaino in Los Altos Hills at Kim Scott and Raj Reddy's yards, that we helped go from weeds to wildflowers.
Palo Alto Weekly newspaper article
---

The Poppy Project blooming in spring with over 2,000 blooms

Postcard shows what the whole hillside could eventually look like.
Craig Dremann worked on the Poppy Project from 2012 to 2016 to replant wildflowers on the hillside of the city-owned Arastradero Preserve, located next to the parking lot, and it is the first time that flowers had bloomed in 150 years at that spot.
This project was 100% funded by donations by businesses, individuals and as memorials for friends and family members. The planted flowers bloomed for six weeks from April to May, and lasted a lot longer than cut flowers from a florist.
---

Thanks to the LOCAL BUSINESS sponsors of the Poppy Project
--San Mateo County Credit Union, Palo Alto downtown branch.
--Konditorei Cafe in Portola Valley.
--And many thanks to the Individual Donors and Project Patrons.
--Plus, many thanks to Hedgerow Farm and Stanford University
for the donation of the native grass straw bales for this project.


---
DONATION TO THE POPPY PROJECT FUND RECEIVED IN MEMORY OF:

--Mr. Homer "Dutch" E. Dremann Jr. of Crescent City, California.


--Mrs. Lee Buckner of Sacramento, California.


--Dr. G. Ledyard Stebbins of Davis, California.


--Mr. Leo Mazzarella of Oak Park, California.
---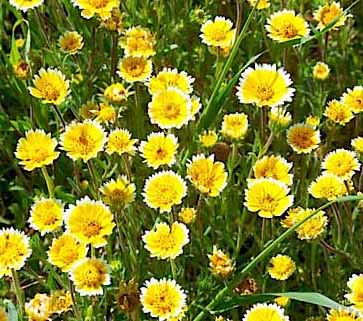 Tidy Tips bloomed from April-May and the butterflies love them for their nectar.
---


Updated December 16, 2016