---

Craig's World's Hottest Peppers
Copyright © 2005, 2006, 2008-2013 by Craig and Sue Dremann, co-owners
Redwood City Seed Company, Box 361, Redwood City, California 94064
Phone (650) 325-7333. 10AM-4PM Pacific Time.
COPYRIGHT NOTICE at bottom of page, covers the photos and text on this site.
Click here for SUE DREMANN's favorite PEPPER RECIPES
Click here for PEPPER GROWING TIPS
Method for testing pepper heat at home-- a free alternative to Scovilles.
FREE printed catalog with all of our pepper seed varieties
Call (650) 325-7333 for a FREE sample of our Habanero Bullet® dried pepper and a printed catalog of the 57 different pepper seeds we offer.
---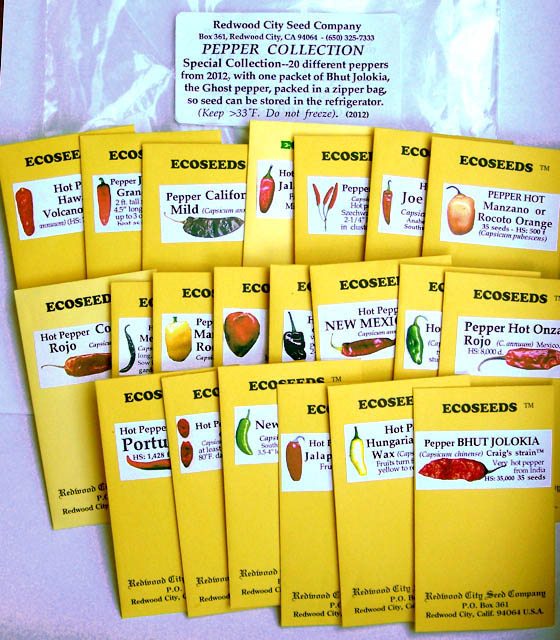 BHUT PLUS 20 PEPPER SEED COLLECTION. One Bhut Jolokia seed packet with 35 seeds, plus twenty other different pepper varieties in their own individual seed packets, usually 100 seeds per packet from 2012, only $35 to customers in the USA, Mexico or Canada. Only a limited amount of these collections available.
---
---BHUT JOLOKIA or Ghost Pepper, Craig's Regular Smooth™ strain. The Bhut Jolokia also produces a smooth fruit type, that you can see in the pictures below, or at http://en.wikipedia.org/wiki/Bhut_Jolokia. The plants has more sturdy stems, and can yield as much as three times as much as the wrinkled fruit strain does.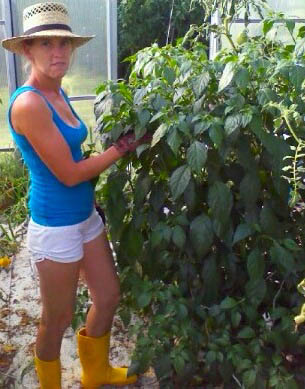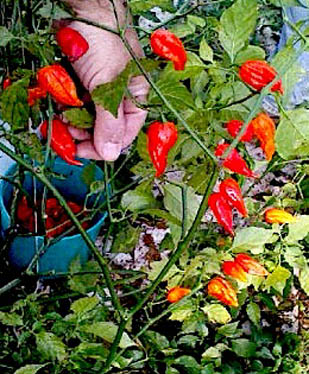 A Kentucky greenhouse hydroponic pepper-growing family sent us pictures of their 2010 fresh Bhut smooth fruit harvests: When planted in 5 gallon pine bark bags with calcium nitrate added to the nutrient solution, plants grew by the end of the year to 3 feet across and 6 feet tall, producing 1,000 peppers on each plant. The weight of the fruit was threatening to break off branches. Photos copyright © 2010 by Gerald Locker, used with permission.
Those peppers sold for retail for $3 each and wholesale for 50 cents each, making the Bhut one of the most valuable legal agricultural products you can grow, and at 100 fruit per pound, the value was from $50-300 per pound. (HS: up to 60,000 d) PACKET (35 seeds) $10


---

---BHUT JOLOKIA or Ghost Pepper, Craig's Deluxe ™ rough strain (Pronounced BOOT Joe-LOH-key-ah) (Capsicum chinense) Also called the Naga Jolokia. Has been listed as the hottest pepper in the Guinness Book of World's Records. One of the largest fruit of the habanero or Scotch Bonnet group, and a unique shape for a habanero-type, from India but originated somewhere in the Americas, probably South America or the Caribbean.
PLEASE NOTE: Seeds absolutely need a minimum of 15-20 days of 80-85 degree F. daytime soil temperature to germinate. Soil temps. are usually different than air temps., so you absolutely must have a soil thermometer in the soil, to check that you are actually getting that 80-85 degree F. daytime soil temperature. A $12 Taylor indoor-outdoor thermometer with a wire, and putting the outdoor sensor in the soil, will give you the soil. temp. within 0.1 degree.
Planting California poppies around or near by the Bhut Jolokia plants in the garden, helps draw in native pollinators, and helps stop blossom drop and can help improve fruit set.
Calcium provided by bone meal is absolutely essential for growing the Bhut Jolokias and any other Habaneros or Scotch Bonnets. A hand full needs to be added to the hole where each seedling is planting out into the garden, and then once a month sprinkled around the base of each plant during the growing season, and watered in until you cannot see the bone meal on the surface.
Adding liquid fish fertilizer once a month is critical, at the rate of one cup mixed into a gallon watering can, and applying to the roots of each plant, which help you achieve those Christmas-tree sized, six foot tall plants with 1,000 fruit per plant.
Bhut Jolokia is very hot for a large-fruited pepper, with a very thin skin, which makes it easy to dry.
However, the Bhut Jolokia is still extremely variable in its selection for uniformity, and the material from India produces plants that vary as to plant size, as to fruit size, varies in fruit production, and has a very wide range of heat levels per plant.
There are several strains of seed of the Bhut Jolokia from many other sources, with a very wide range in their heat levels. Dried peppers heat levels up to 113,000 HS. Seeds available December 2013.
---


Habanero Craig's Deluxe™ Orange , loaded with hot, hot, hot fruit
---Habanero Craig's Deluxe™ Orange (C. chinense) Square shaped fruit 2" long, turning orange with an unusual apricot flavor and scent when ripe. Plants 3 feet tall and 4 feet across, very prolific about 50-100 fruit per plant. Loved for its unique fruity flavor and juicy, crunchy fruit. This selection is three times as hot as the regular orange Habanero variety that you buy in the grocery stores. (HS: 30,303 d) PKT. (100 seeds) $5
---
---Habanero Gold Bullet ® Tall strain (C. chinense x pubescens) Dare to bite the bullet"™ Plants are taller than the White Bullet®, about 4 feet tall and 4 feet across, with some pubsecens genes. Fruit gold, 0.4 inch by 0.6 inch, fresh fruit keeps well. (HS: 24,390 d). Federally registered trademark, not shipped outside of the USA. PKT. (100 seeds) $5


---

---Habanero Mustard (C. chinense) Plants 4 feet tall and 3 feet across. Extremely hot fruit 1.5-2 inches long and 1 inch across, very wrinkled, orange when ripe. One of the world's hottest peppers. People are surprised when the grow and try this pepper for the first time. (HS: 36,810 d) PKT. (100 seeds) $5
---

---Habanero Peach (C. chinense) Plants 4 feet tall and 4 across, producing fruit that are first peach-colored then turn orange when fully ripe. (HS: 41,558 d) PKT. (100 seeds) $5
---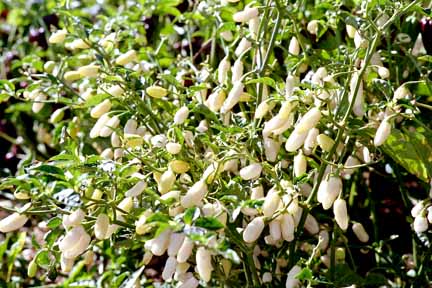 The amazing abundance of the White Bullet® Habanero, on a single plant!
---Habanero White Bullet ® (C. chinense) The earliest maturing and most productive habanero, with white fruit turning light golden, 1/2" wide and 1" long. "Dare to bite the bullet"™. If you can successfully grow the orange habanero or the red scotch bonnets in your garden, then wait until you see the staggering yields of the White Bullet®---a single plant can produce over 1,000 fruit weighing a total of five pounds! (HS: 19,000-40,000 d). Federally registered trademark, not shipped outside of the USA. PKT. (100 seeds) $5
---

---Bullet® Habanero dried fruit - HS: 21,000-33,000 batch. PRICE: $10 per ounce, 1/4 pound $35, 1/2 pound $60. Price includes postage to USA, Canada and Mexico.
---Bullet® Deluxe™ dried fruit - HS: 40,000 batch. PRICE $12 per ounce, 1/4 pound $40, 1/2 pound $75. Price includes postage to USA, Canada and Mexico.
CALL for a free sample Habanero Bullet® pod and a printed catalog (650) 325-7333
---
--OAXACAN RARE PEPPERS -- see the 2012-2013 Catalog supplement.
---

Pequin dried flakes, one of the world's hottest peppers.

---Pequin or Prin-key-new (C. frutescens) One of the top-10 hottest peppers, originally from the Americas and now grown in Thailand where it is known as the Prin-key-new. This tiny pepper, only 1/4 inch long, really packs a punch, and the dried flakes are usually smoked like Chipotle, so add a very distinctive flavor to dishes. (HS: 20,000 d). PKT. (100 seeds) $5


---



---Sadabahar (C. annuum) Probably the hottest pepper of the fast-maturing annuum group, from India, with fruit 0.3" wide and 2.5-3 inches long. Grow a pepper that will knock your socks off, in half the time that it takes to grow the Bhut, or any habaneros or Scotch bonnets. (HS: 60,000 dried). PKT. (100 seeds) $5


---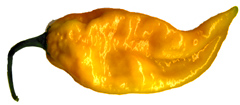 --Scotch Bonnet Fatali, life size (C. chinense). Plants with big leaves, 2.5 feet tall and 3 feet across, large peppers 3 inches long and 1 inch across, turns yellow to orange when ripe, extremely hot fruit. Fruit has the ability to keep fresh for several weeks. Produces well in northern climates, and still keeps its heat. (HS: 17,582 f). PKT (100 seeds) $5


---
--Scotch Bonnet Haitian Red (C. chinense) Very productive and vigorous variety, able to produce even in very tough growing conditions and poor soils. PACKET (100 seeds) $2.
---Bulk price includes shipping to USA customers. Germination is 80%+ tested 11-2012, and there are about 50,000 seeds per pound. PRICE 1/2 pound $65, One pound $120--Contact the manager of our Haitian farming project, via email Ed Thomas in Orlando, Florida or phone (407) 459-3771 for purchase.


---
--Scotch Bonnet Nelson's Jamaican Yellow™- (C. chinense) Good size and the real-McCoy for the original Jamaican strain that has been lost by the Jamaican island growers, but still has a lot of variation in shapes and heat levels. Image above shows the ideal shape. Found in the market in Maryland by a commercial grower named Nelson. (Up to HS 35,000 f) -Packet (100 seeds) $5


---
Tepin whole dried pods
Dried flakes
life sized
--Tepin (Capsicum annuum v. aviculare), the tiny round fruit, only 1/4 inch across, is only harvested from wild plants growing in the desert mountains of Northern Mexico, when good rains fall in the summer in the deserts where they live. Also called the Chiltepin and is one of the many types of chilies called Bird peppers.
The first year, plants require 120 days for green fruit and 200 days from the setting out of plants to mature red ripe fruit, so they are best grown in containers year-round and brought indoors overwinter in areas with frost. The second year, when plants are put outdoors in spring when nights are above 60 deg.F., they start flowering quickly, and start producing fruit from July to October.
Plants can live for 35-50 years if protected from frost in winter, if the minimum winter temperature is kept above 60 degrees F.
In Florida, Hawaii, southern Texas, southern NM and southern Arizona, and coastal California, the plants will grow as perennial bushes outside year-round, if protected with a cardboard box over them, when night temperatures ever dip below 40. All peppers are perennials if kept above 55 deg. F. at night.
Tepin plants grow into round perennial bushes. Being a wild plant, seeds can take 3-5 weeks to germinate at 80-85°F daytime soil temperatures. The total germination rate from our tepin seeds is between 80% and 90%. (HS: up to 60,000 d) PACKET (100 seeds) $2.
---



--Trinidad Scorpion Red, Craig's Deluxe™ strain. (C. chinense). Unique pepper pods shape, with a scorpion-tail at the end, but is variable and a hugh percentage of fruit will trend towards Ghost pepper shapes. Once the heat level of this strain is stabilized, it will be the permanent Guinness World Record holder for many decades.
This pepper, when fresh or dried, is so hot that it is extremely dangerous, and we recommend that you wear chemical resistant gloves or latex gloves, safety goggles, clothing that you can immediately remove and wash after you are finished working with the peppers, and a fume mask (like a 3M model 6247 from an Ace Hardware store) to protect yourself when handling either the fresh or dried fruit, and only work with this pepper outside.
Best to make the pepper into a sauce, rather than use as dried flakes or as a powder, or even as a dried whole pepper, because the liquid of the sauce will help keep the pepper from atomizing in the air.
NEVER make this dried pepper into a powder, and DO NOT put this pepper into hot oil to make a hot oil sauce. USE A VERY SHARP KNIFE when cutting the fresh peppers--so the least amount of pepper is atomized into the air.
The safer way to use the fresh or dried Trinidad scorpion pepper, is Louisiana-style, which is to take a hot sauce bottle with a shaker top, and put the pepper whole or sliced in the bottle with a liquid, like vinegar, lime juice, or vodka, and allow the liquid to get infused with the pepper for a week or two. Then shake out the liquid to use, and replace the liquid as it is used up, and keep reusing the same peppers over and over again that way.
Please, never offer this pepper to someone who is not aware of its extreme heat level, because the results could be life threatening. People have asked me if this warning is just advertising hype, but I am very serious about the dangers of this pepper, so be very, very careful, and use with great caution. The purchase of this seeds means that the buyer is aware of these risks, and takes full responsibility for any injuries or medical emergencies.
Like the Ghost peppers, there is a layer of almost pure capscaisin on the inner walls of this pepper. Use a toothpick and scrape the inside of this pepper and get a little bit at the end of the tootpick, and see if that doesn't knock your socks off. Up to HS: 144,000 dried. PACKET (20 seeds) $25, limited to 10 packets per customer.
---DRIED FLAKES Trinidad Scorpion Craig's Deluxe™ (HS: 100,00-120,000) with seeds removed. Same warnings and cautions apply to the dried flakes as listed above for the seeds. One free sample on request, with any pepper seed order over $60.


---



--Zimbabwe Bird fruit, life size (C. annuum) Ornamental round-shaped plant only 8-12" tall and 1-2 feet across. Plants very prolific, looking a like a lawn of fruit. Pods are upright, triangular, 3/4" long and 1/4" across. One of the world's hottest peppers, a bird pepper from Africa, and very rare. (HS: 19,500 f) PKT. (100 seeds) $5.


---
NEW SUPERHOT peppers are being offered the USA, Europe and Australia, such as the Ghost pepper/Bhut Jolokia, the various Trinidad Scorpion strains and many others that were unknown to gardeners only a few years ago. A tug-of-war has begun, to see which pepper is going to be listed each year as the world's hottest spice, in the Guinness Book of World Records.
Currently, none of the Superhots are in large scale seed production by any commercial seed companies, so their heat levels have not been stabilized through selections made, by testing the heat level of fruit being produced by each plant during the growing season.
One method to stabilize the heat is to measure the levels produced by each pepper plant, then only harvest from the top 10% of the plants in the field producing the hottest fruit. Then you replant seed from the hottest selections and keep doing that selection process for several years.
Our company is beginning that process with the Superhots, and are offering our trademarked varieties that have consistently tested as the hotter strains, using our Dremann Heat Scale method (HS).
Craig's Deluxe™--when you see this trademark, that indicates this is the hottest commercially available strain for this pepper variety, if that is what you are looking for.
Heat Testing during Seed Production -- What does that mean?
That is what our seed company does for all of the pepper seeds we sell to you. The heat level of each pepper variety is tested during seed production, and we use our Dremann Hotness Scale (HS) to give you a heat scale number, that you can double check yourself.
Many pepper seed sellers may give you a Scoville number for seeds they sell you, but that Scoville number is impossible to check unless you want to pay $50-100 at a lab. We use our own Dremann HS number, so that you can check pepper heat levels for free in your own kitchen, using a gram scale, an eyedropper, and a blender, in about 10 minutes.
You might find these Superhot pepper seeds being sold at a much cheaper price-- but before you purchase them, ask the seed sellers--were those seeds tested for their heat levels during seed production, using either our Dremann HS units or Scovilles?
Hot pepper seed germination tips: Always start seeds in a potting soil that is made out of forest products, and do not use peat, peat pots or peat pellets. There is more information, plus photos of the results of using different potting soils at www.ecoseeds.com/pepper.growing.tips.html.
---

Please note that "Craig's Deluxe", "Scotch Bonnet Nelson's strain", "Trinidad Scorpion Craig's Deluxe strain" and "Bullet" are exclusive trademarks of the Redwood City Seed Company, and the "Bullet" trademark is Federally registered. Photos and text Copyright © 2002-2013 by Craig and Sue Dremann, all right reserved.

---
Copyright notice: You can print off a copy of this web page, for your own personal use. Howver if you copy and reposting any text or images from this web page without written permission for any purpose including any blogs, web pages, email lists, the liquidated damages that you agree to pay on demand, is $100 per sentence or image, per day.


---
>>>ORDER BLANK for the hot pepper seeds LISTED ON THIS PAGE
>>>ORDER BLANK for ALL our HOT PEPPER seeds, pods, books, etc.
>>>PEPPER SEED COLLECTIONS
---

Updated January 12, 2013